Saying Goodbye to Prohibition Bakery
Sometime in May of 2012, 1850 some odd days ago, I signed a five year lease on a 200 square foot basement space in the Lower East Side of Manhattan. The year before, I was taking a cake decorating class in an effort to expand my food styling knowledge, and we were required to bring in a blank sheet cake and cupcakes so we could practice piping frosting roses. Most people went home and whipped up a quick box mix or forgot the cake entirely and practiced on a rectangle foam block, but I was bored, unemployed, and a god damned professional chef, so I would not be making a cake out of a box. Please.
My college roommate's bachelorette party was coming up and she loved Cosmopolitans, so the cranberry-vodka drink was on my mind. I wondered if I could turn a cocktail into a cake without baking off the booze or tampering with the tart cranberry flavor, so I grabbed a bottle of vodka and 100% cranberry juice, repurposed a technique I learned during my tenure at WD~50, and created a cranberry vodka filling that looked like jam and tasted like a Saturday night frat party. I slathered the filling in between a few layers of lime-yogurt cake and covered the whole thing with an orange frosting. Though the filing itself was strong enough to send a shudder up your back, the light lime cake and the bright frosting mellowed out the boozy filing — just like mixers in a good cocktail. I still had lots of leftover filling and frosting, so I made a second batch of cake batter, partitioned into cupcake tins, and a few hours later, the first of hundreds of thousand boozy cupcakes were born.
Welcome to the world, little business babies.
I took my cake and cupcakes into class, finished decorating them in sickeningly precious flowers and swirls, and dropped them off at a friends office so I wouldn't gorge myself on sugar and booze at 2pm on a Tuesday. As we were standing around chatting someone said, "What if there was an entire line of cupcakes that tasted like cocktails?"
I knew right then that I was going to be a millionaire.
Wait, that's a complete and total lie. All I knew at that moment was that I had a really good idea and a project that would pass the time until I got a real job. (I was actually interviewing with Trump Soho at the time for a position in their Events and Catering department. The entire interview process was a clusterfuck, and after three separate interviews and two apologies, I never heard from them again. Dodged that bullet.)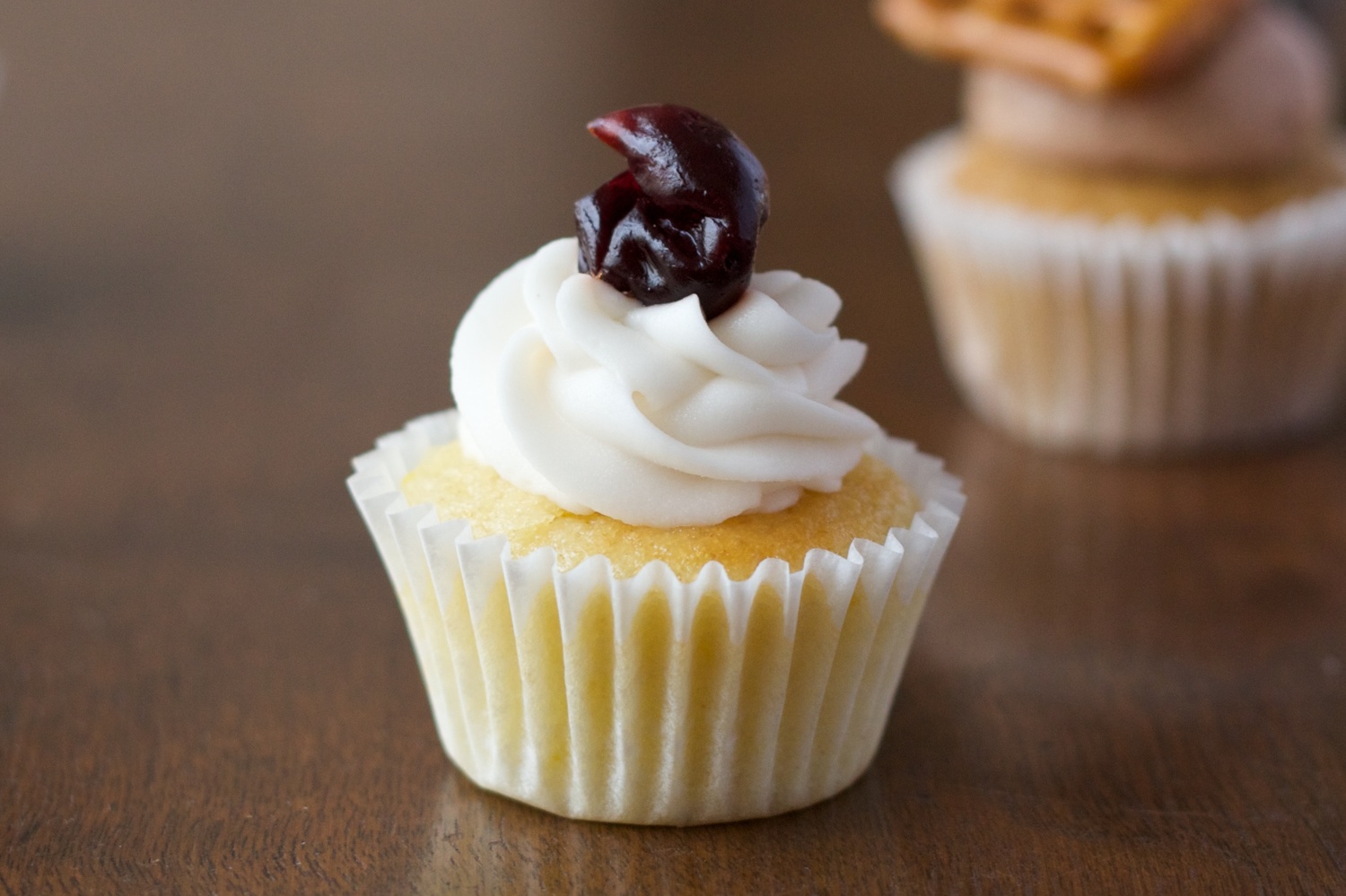 So, I went back to my apartment and in between job applications, I tinkered with the cupcakes a bit more, randomly came up with the name "Prohibition Bakery", and on June 1, 2011 had this fateful Gchat conversation with my soon to be business partner, Leslie:
me: hey! want to become a partner in my new venture, Prohibition Bakery? specializing in boozy cupcakes and cakes
Leslie: im in
me: it's starting with a facebook page and my miniature kitchen
Leslie: im a great baker, and im good with icing
and i likes the boozin' :)
me: i figure we can just get drunk whilst baking to take the edge off
Leslie: its like you read my mind
me: i'm actually quite serious. i plan on whoring this out to everyone i've ever met. you can do the same
Leslie: i know, im serious too
And that was that. A few days later we wandered into the local courthouse, bought our business papers and a Snickers bar at the gift shop (because in Manhattan you seriously buy your official papers at the gift shop) and...started a business. The next year, we signed that lease.
Five years later, after what can only be described as a massive learning experience filled with an infinite number of things I'd do differently if I could go back and try it all again, I've sold my half of Prohibition Bakery. As of June 1st, I make a permanent alteration to my resume.
But, why?
Over the years, I struggled with finding my place in the business I helped create. It just seemed like I couldn't ever get in the groove, get the timing right, or build the momentum. The combination of financial instability, bullshit New York City bureaucracy, family tragedies, and generally just being young and stupid all converged to make everything far more difficult than it should have been. At the heart of it though, the nature of the business simply didn't allow me to be who I needed to be. As I drifted away from the confines of the Lower East Side and my life that existed there, Leslie gravitated towards it and carved out a space for herself. It makes sense for her to take what we built and continue telling the story of its life. My role was to begin the story. It's her job to continue it.
So what's next? Well, I'm mulling over something new. Something that doesn't exist, something that seems like a massive undertaking, but this is when I'm at my best. I know now that I thrive in the beginning, when a little zygote of an idea needs love and creativity in order to survive. I'm best when I can re-create the energy I had in my in my kitchen back in the Spring of 2011, working on prototype after prototype until a new idea is ready to be presented into the world. I'm best when I can take bits of this and that and focus it all together into something new. I'm best when I can see a fully formed idea, years into the future, and when I am in front of a computer and completely bewildered at the number of things I need to do to make that a reality. Right now, I'm in that space. My plan is to continue traveling, writing, and working on this new project until I know it's time to remain still for a bit.
In the meantime, if you still need a boozy fix, check out our book Prohibition Bakery. The book is my favorite accomplishment from my years at the bakery, and I hope you love it as much as I do.